Hall of Fame Kiosk | Touchscreen Interactive
Easy to Use Software. . . That Always Works.
We build software to highlight and record important information and make it accesible everywhere. Touchscreens. School Websites. Smartphones. Laptops.
Features
Works on all devices

Touchscreens, Smartphones, Laptops, etc.

Unlimited Customization and Features
Unlimited Customer Support
Unlimited Inductees
URL Link Access
Unlimited Award Categories

Athletics, Academics, Donors, Arts, Player of The Week, College Athletes, Distinguished Alumni, School Records, etc.

Unlimited Photo and Video Uploads
Easy to Use Content Management System

Real-time Updates

Access Content Management System From Any Device
Social Media

T witter, Instagram, Facebook, YouTube, etc.

Calendar Support
Easy Addition to School Websites
Digital Trophy Case
School Donation Platform Integration

Coming Soon

In-website Apple Pay, Venmo, Paypal Support for Donations

Coming Soon

Voice Search

Coming Soon

Yearbooks, Team Records

Coming Soon

Digital Trophy Case

Want A Feature We Don't Have? We Will Build It For Free.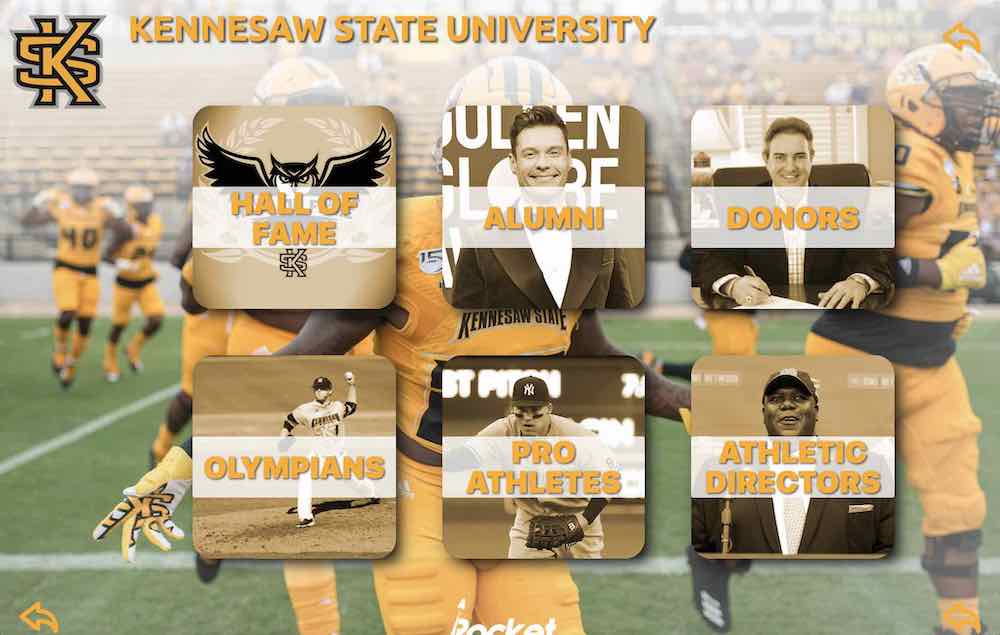 QUESTIONS?
Let us answer all of your questions. We will share our screen with you and demo our software and content management. We will discuss all of your needs and develop next steps.
Digital Interactive Trophy Cases | Kiosk Software
How Can Our Interactive Informational Display Be Used?
Digital Hall of Fame F.A.Q
Frequently Asked Questions
Email:
Support@RocketAlumniSolutions.com